Fundraising and Community Outreach Events
Spirit of Joy's Scrip Program
Scrip is just a fancy way of saying gift cards. It's easy to buy and use and makes perfect gifts. When you use scrip instead of cash or credit cards, you're "gifting" yourself and Spirit of Joy. They work just like gift cards, there are no hidden fees, and they are simple to use.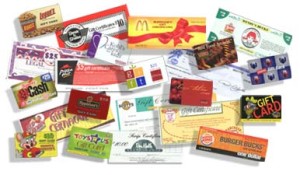 Drop by the scrip table and check out all of the stores and other vendors that take scrip. Most local vendors are kept on hand and can be picked up at the scrip table. If your favorite vendor is not available, you can order cards and they will be available to pick up usually the following Sunday.
'Mighty' Tab Collection
A few years ago, Spirit of Joy started collecting these 'mighty' tabs for the Ronald McDonald House in Loma Linda.  This year, we were able to donate just over 205,000 tabs.  "Why?" you ask; good question.  For every 5,000 tabs received, the Ronald McDonald House provides a Free radiation treatment to a child stricken with cancer.  That is why we refer to those tabs as "mighty".   In addition, those tabs are made of a stronger material than in the can. Because of this enhanced quality, the tabs are converted to artificial limbs for children at No Cost!
 Please be sure to continue to save those "mighty" tabs.  You may drop them off in the office during the week or simply bring them to worship on Sunday.  Together we can keep the spirit of mission and service alive.
Aluminum Can & Plastic Bottle Recycling
Consider bringing in your aluminum cans and plastic beverage container for recycling.  There is a bin in the Martha Room set up specifically for that purpose.  This year, the council has decided to direct the proceeds received into the "Fix-It-Fund". Thank you to all who participate in the project.  You are making a difference.
God's Work Our Hands (August 21 - September 11, 2022)
This event is an opportunity to celebrate who we are as the Evangelical Lutheran Church in America (ELCA) – one church, freed in Christ to serve and love our neighbor.  This year, this month-long event will be directed toward the Bread Basket, a food ministry offered through the Church of ACTS (Anglican Church of the Spirit), located in San Jacinto.
The Bread Basket is open to all individuals/families living in the San Jacinto Valley who are struggling financially.  At the Bread Basket, they can purchase goods at a reduced rate because almost everything is donated.  The money collected each week from the sale of food items is used to purchase milk and eggs for the following week. In the past, they have served over 45,000 people in this valley.
However, there never seems to be enough of certain items to go around, so a strategic plan, targeting specific needs, has been developed.  To fill the gap, we are asking everyone to donate the following items: bag of pinto beans, bag of white rice, cereal, pasta and sauce, regular size salad dressing, box of mac & cheese, and canned fish. Your donations will go a long way toward feeding those in need.